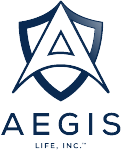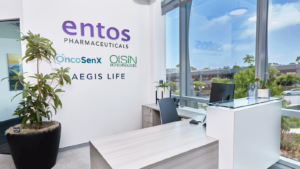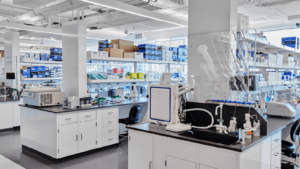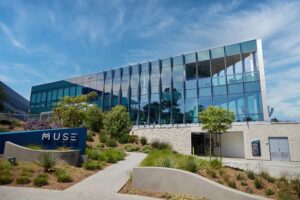 EDMONTON, Alberta & SAN DIEGO–(BUSINESS WIRE)–Entos Pharmaceuticals, a clinical-stage biotechnology company developing genetic medicines with its Fusogenix proteolipid vehicle (PLV) nucleic acid delivery platform, announced today the opening of its new 9,600 square foot research and development facility in the Torrey Pines community of San Diego, California. This collaborative space will be shared with Entos' sister companies, Oisín Biotechnologies, OncoSenX, and Aegis Life, allowing the companies to expand their team and infrastructure and support continued growth.
Entos' new office and lab space is located at the MUSE in Torrey Pines, a redeveloped 186,000 square foot life sciences property completed in 2021. Featuring three buildings, the campus was designed with walking paths, a locally-sourced restaurant, and conference space with indoor and outdoor seating. The US location complements Entos' existing Canadian headquarters and R&D facilities in Edmonton, Canada, and new offices in London, UK.
"We're excited to move into our new lab space in San Diego, which is becoming one of the largest biotechnology hubs in the world for pharmaceutical research and innovation," said John D. Lewis, Ph.D., founder, and CEO of Entos Pharmaceuticals. "This is a significant milestone for Entos as we continue developing genetic medicines for some of our most challenging diseases."
Entos' proprietary Fusogenix PLV drug delivery system is formulated with FAST proteins to enable the delivery of nucleic acid cargo, such as DNA and RNA, directly into target cells. This technology is applicable to a wide range of genetic medicines. Unlike conventional lipid-based and viral-based delivery systems, Fusogenix PLVs have demonstrated, in multiple studies, to be well tolerated at high systemic doses, redosable, and able to target multiple tissues in the body.
This announcement comes on the heels of two significant collaborations that began in late 2021, granting exclusive rights to Entos' Fusogenix PLV nucleic acid delivery technology to research, develop and commercialize therapeutic genetic medicines. The first agreement was with BioMarin to target certain rare diseases. The second was a license agreement with Eli Lilly for multiple programs for central and peripheral nervous system diseases and came with an initial payment of $50M and $400M in milestones per program.
About Entos Pharmaceuticals
A new reality in genetic medicine lies ahead, one that will be ushered in with the advent of safe, effective, and redosable nucleic acid delivery technologies. At Entos, we develop next generation genetic medicines using our proprietary Fusogenix proteolipid vehicle (PLV) drug delivery system. Fusogenix PLVs are formulated with FAST proteins to enable the delivery of nucleic acid into target cells through direct fusion. For more information, visit www.entospharma.com.